This year, as we celebrate our 50th Anniversary, we will be hosting our inaugural
First Annual Paws for Our Cause Pet Walk!
Please join us on May 13, 2023 at Rosedale Park and
help Meals on Wheels of Mercer County celebrate our seniors and their furry friends.
Research shows keeping seniors together with their pets can help combat social isolation and improve well-being!
Online registration (coming soon): $25 per person/ $35 for families (up to 5 individuals)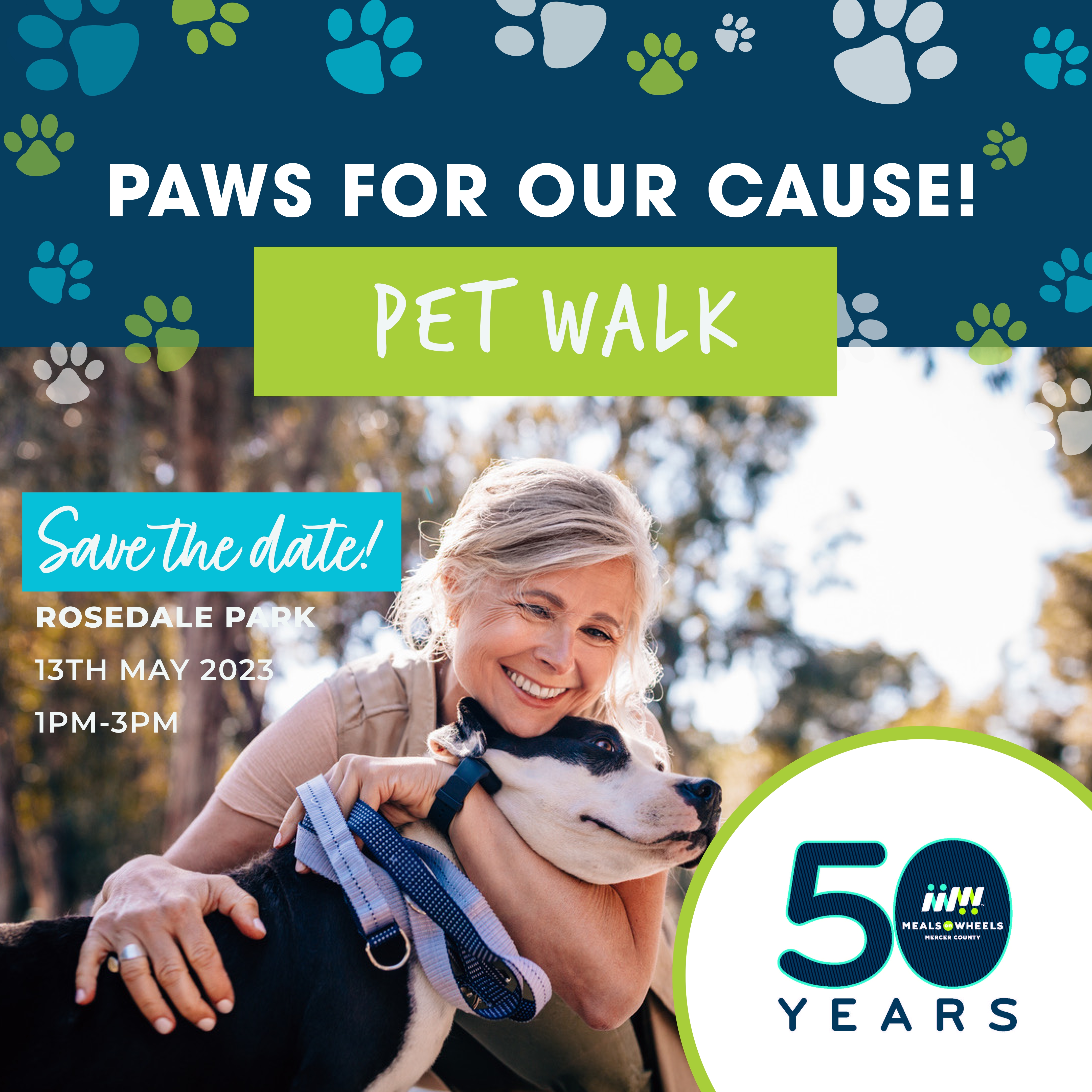 Why We Walk
Homebound seniors and their pets are especially vulnerable. Imagine you are isolated at home and the only other living thing in your home is your pet. We know the tremendous value a pet can bring to our lives. You would do anything to keep that "furry family member" alive. This would include feeding them your meal before you feed yourself.
Sharing the only food they have is not good for the elder or their pet. This is why Meals on Wheels of Mercer County is celebrating its 50th Anniversary with a brand new event that will fund our efforts to continue providing free pet food twice a month to our meal participants so neither go hungry!  
Research has shown that pet ownership can provide important forms of social and emotional support for older adults that can reduce distress, loneliness and improve overall quality of life. One study found that strong attachment to a pet was associated with less depression among older adults.
Human-animal bond positively contributes towards healthy aging in several areas, including:
*Mental Health
*Anxiety, stress, depression, Alzheimer's & dementia
*Physical Health
                                 Can't make the event but would like to contribute? Click HERE!     
Corporate Sponsorships are available! See below for more information.                           
PRESENTING SPONSOR: $10,000 (exclusive opportunity)
Company logo featured on event materials & banner, our website, social media and MOWMC publications

Featured as event Presenting Sponsor on social media, email and print -a list of over 8,000 donors

Corporate video on the Paws for Our Cause page of MOWMC website (restrictions apply)

Speaking opportunity to address the Pet Walkers at event

Corporate representative invited to deliver on a route
PET PARENT SPONSOR: $5,000 - benefiting our MOWMC meal participants
Company logo featured on event materials & banner, our website, social media, and MOWMC publications

Corporate representative invited to deliver on a route

Featured as leading sponsor on email list of over 8,000 donors
PET PANTRY SPONSOR: $2,500 – benefiting the MOWMC Pet Pantry
Company logo featured on event materials & banner, our website, social media and MOWMC publications

Featured as Pet Pantry sponsor on email list of over 8,000 donors
SWAG SPONSOR: $1,000
Name & logo on swag item

Company logo featured on event materials & banner, our website, social media and MOWMC publications

     
              *Custom Sponsorships available.  Contact Evett Shulman, eshulman@mealsonwheelsmercer.org, 609-695-3483